Dear guest, our experienced and passionate team welcomes you to restaurant FIRST FLOOR, in harmony with excellent cuisine in the heart of Paderborn.
YOUR RESERVATION
We will gladly take your request for reservations in our restaurant FIRST FLOOR. Please take a moment to fill out our FORM to reserve your table and for special requests. To better accomodate you please reserve early. We look forward welcoming you.
If you have further need for assistance, please don't hesitate to call us. 05251 128 831
Steaks & more
Our Chef de Cuisine and Knowledgeable Team will pamper you with a Great Selection of Dishes, Local and International, they will meet all your Expectations and Wishes. Our Specialty Steaks from "The Beefer", Burgers or Vegetarian alternatives are to be expierienced, always Fresh and with Ingredients with a Hint of Mediterranean Essence.
Menu
local & international
Our Culinary Journeys Calendar immerse you in a Voyage of Discovery of Various Regions: Bavaria, Mediterranean Sea, Thailand, Mexiko or Sicily. Enjoy the Ambiance, the Flavors of the different Regions, Countries and Culture.
Events
Friends & partners
Hospitality is our top priority. Our excellent staff will provide outstanding service with a smile. Enjoy with friends, and our expertise will bring pleasure and great memories.
Our friendly staff awaits your visit for you to create great memories
Restaurant
fresh & handcrafted
Our Ingredients are Handpicked, Fresh and Top of the Line, our Culinary Team works only with the Best, so you enjoy the Fruits of our Labor, Fresh and Handcrafted
Menu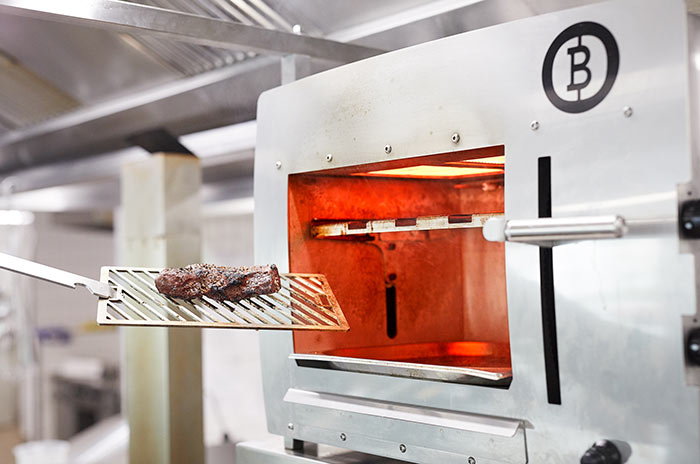 We are beefing for You
Sometimes it could be 800◦C
The "Beefer" crowns the meat with an amazing flavor. The outer layer of a prime cut is caramelized at 800◦C. The quick broiling process and high temperature creates a crusty seal that preseves the juices and flavor in your steak. The end result: An explosion of flavor and juices at the first bite; enjoy a variety of steaks cooked with our "Beefer".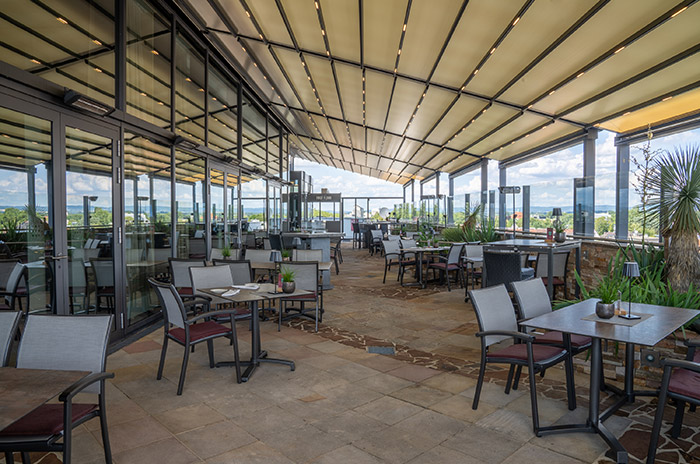 Panorama terrace
Summer time means terrace Time.
Our panoramic terrace offers a breathtaking view of the center of Paderborn and the hills around the city, along with a view of the Teutoburger Forest; Alongside with our specialties from our grill: It is the best kept secret for a relaxing summer evening in the city with mediterranean flair.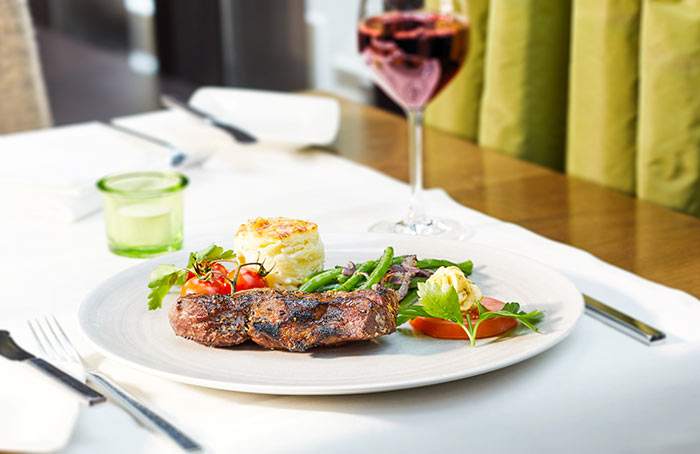 Culinary journeys calendar
Have you discovered our culinary journeys calendar?
This are evenings in restaurant First Floor where we combine athmosphere, unique flavors and specialties from different regions and immerse our guests in a journey of discovery from a culinary perspective for a very comfortable price. For many guests is an introduction to this wonderful regions in the comfort of very stylish settings. Places fill fast, please make your reservation as soon as possible.